Home » Products » Horizontal Sorting Frames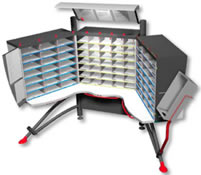 Adjustable Compartment Horizontal Sorting Frames

Maximises sorting efficiency and processing space with one frame, for horizontal sorting of letters and/or large envelopes.
This innovative adjustable compartment horizontal sorting frame provides an ergonomic but space efficient sorting frame that can easily be adjusted between letters and large envelopes. Adjustable compartment horizontal sorting frames have the potential to make positive impacts on efficiency, quality and utilisation of space and resources in mail operations.
Future Proof Design
The rapidly evolving postal market is seeing changes in mail types and volumes requiring equipment that is designed to be future-proofed, is highly operationally flexible, and caters for the different uses and range of sorting needs.
Designed to international standards, the adjustable compartment horizontal sorting frame comprises robust, ergonomically sound equipment that can be easily modified to suit the needs of individual sorter and mail types.
Sort Letter and Large Flat/ A4 product on the one frame
Cost effective with a low ongoing total cost of ownership
Allows maximum configurability and the ability to be adjusted with minimal inconvenience or disruption to the workplace, even during sorting
This frame's versatility mitigates the risk of equipment needing to be replaced with changes in mail type, mix and volumes
Efficiency gains with one frame being fully utilised rather than many "specialist" sort cases which often lie idle for extended periods
Reduces the number of sort frames and the floor space required in the mail room – space effective and property cost saving
Innovative, modern looking frame combining functional excellence with elegant design
Open design of frame maximises existing lighting
Easy Adjustment
Readily customised for differing sort plans, product sizes and operator needs.
The multi-purpose functionality frame can fulfil several jobs as the variable width compartments easily convert column widths between letters and large envelopes, and vice versa
Electric height adjustment – up to 300mm
Controls for the height adjustment and the light are located under the work surface, making them easily accessible to the user while protected from accidental activation
Pull-out mechanism presents mail for easy removal from the sorting frame, further improving the accessibility of mail in the higher shelves
Rotating addressing labels to match the variable configurations for changing product size or different sort plans (3 options)
Secure non-reflective address label holders for 10mm address labels
Addressing software available to organise and clearly print colour coded sort labels, from either imported data or direct input
Configurations
Each module can be independently configured for optimal sorting of either Letters or Large Envelopes.
Any mix of modules can be developed to meet customer requirements. With regard to an adjustable compartment horizontal sorting frame with one frame of three modules the following information applies:
Letter
C5/DLE
No of compartments
35
Columns
5
Compartment width and depth adjusted to the dimensions of Letters
No of rows @ 100mm
7
The usable height can be customised
Large Envelope
Foolscap/A4
No of compartments
21
Columns
3
Compartment width and depth adjusted to the dimensions of Letters
No of rows @ 100mm
7
The usable height can be customised
Ergonomic Features
The integration of ergonomics in the design of these sorting frames maximises the efficiency of sorting and minimises workplace accidents. Detailed analysis of the causes of muscular injuries suffered by sorters (notably to the back) highlighted issues that are addressed by the ergonomic principles applied in the frames design.
The frame, modules and contoured work surface are designed to fit the natural sorting arc of the mail sorter so that the sorter can easily sort into all compartments without any stress or strain from twisting or bending.
Height adjustable modules and work surface to suit individual users, no tools required
Simple and quick adjustment of compartment width
Can sort either sitting or standing
Sorters can reach each compartment of the frame by moving their arm not bending or stretching their torso
Ergonomically designed to suit the 95 percentile of the population of sorters for both horizontal and vertical reach
The angle of the fixed wing modules is designed to create a semi-circular workspace to match the natural arc of the sorter's reach
Lessens the number of injuries caused by excessive stretching, bending and twisting of workers during the sorting process
Robust Construction
Constructed of high grade steel and strengthened plastic providing a stable base with a high weight load bearing capacity
Independently tested for strength, structural stability and durability
Adjustable feet to provide a level and stable environment even on uneven floor surfaces
All components are designed, manufactured and finished with the safety of personnel in mind
Components
Work surface
Contoured to assist with ergonomic sort arcs while promoting safe and efficient body movements
Braced to support letter trays anywhere on the entire length of the work surface
Lowest setting of top of surface is 650mm from floor
Work surface depth varies from 220mm to 300mm
Rounded edges to avoid risk of injury or damage to clothing
Modesty panel provides privacy
Information display panels
Overhead, above any or all of the modules
Angled for easy reading
Side mounted to either or both sides, can pivot to be angled to facilitate reading, to suit the sorter's preference and reduce twisting and backward flexion of the head and body
Simple yet effective design
Task Lighting
Individual "T5" Fluorescent tube with diffuser positioned above the cabinet modules
Angled to illuminate the work surface and sorting compartments at 500 lux without casting shadows or producing a dazzle effect
Electrical supply
Includes a terminal board with four individually switched sockets for lighting, the height adjustment, serial linking of frames and a spare for other electrical equipment
All electrical components are proprietary products which provides simplified maintenance and problem-free replacement thereby allowing the frame a longer useful life
Mail Tray Holder
Mail Tray / Bin holders can be positioned on either side to reflect sorters preference
Other Information
Can be built to individual customer specifications
All components are available in a range of colours (frame, module, shelves, dividers)
Local support available for consulting on best practice, training, installation and ongoing assistance
Quality assurance founded on ISO 9001 principles
Patent Protected Internationally
The adjustable compartment horizontal sorting frame complements the tubular vertical sorting frame providing a full range of flexible, multi configurable and ergonomic sorting solutions.
NB: Due to licensing agreements this product is not available for sale in New Zealand.